AFD TYPE DISCONNECTING TERMINAL BLOCK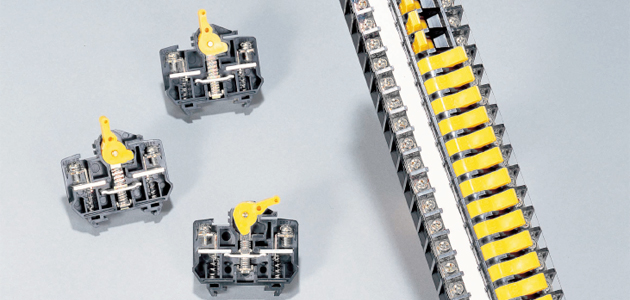 FEATURES
The circuit can be disconnected by the lever operation.
With up-screw terminals, wires up to 5.5 mm2 can beconnected.
The terminal block can be mounted on DIN rails.
2-pole batch disconnection is also available.
ON-OFF indication labels are attached.
Rated insulation voltage (Ui)
Rated current-carrying capacity (Ith)
Max. wire size
Screw size
Withstand voltage
Lightning impulse
Operating temperature
Storing temperature
Altitude
AFD-5.5
600V
30A
5.5mm2
M4×8.5
1 minute at 2,500V AC
±6kV/3 times for each pole
(1.2/50μs)
-20 to 60℃
-40 to 75℃
2,000m max.