TVTA TYPE, TVTB TYPE RECTIFIER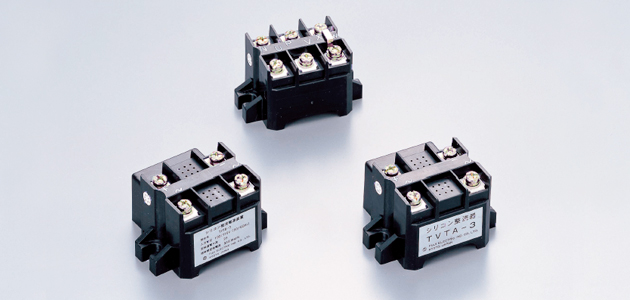 FEATURES
A silicon diode rectifying circuit is incorporated.
A built in varistor limits the surge current and provides a protection against fluctuation of the load current.
TVTA-3 and TVTB-3 have built-in capacitors so that rectification does not cause zero voltage.
PBT plastic is used as the body, which enhances self-extinguishing and anti-flammability performance (UL94-V0).
| | Rated insulation voltage (Ui) | Rated current-carrying capacity (Ith) | Max. wire size | Screw size | Withstand voltage | Lightning impulse | Operating temperature | Storing temperature | Altitude |
| --- | --- | --- | --- | --- | --- | --- | --- | --- | --- |
| TVM-3 | 600V | 3A | 5.5mm2 | M4×9 | 1 minute at 2,500V AC | ±7.2kV/3 times for each pole (1.2/50μs) | -20 to 60℃ | -40 to 85℃ | 2,000m max. |
| TVTA-3 | 600V | 4A | 5.5mm2 | M4×9 | 1 minute at 2,500V AC | ±7.2kV/3 times for each pole (1.2/50μs) | -20 to 60℃ | -40 to 85℃ | 2,000m max. |
| TVTB-3 | 600V | 2A | 5.5mm2 | M4×9 | 1 minute at 2,500V AC | ±7.2kV/3 times for each pole (1.2/50μs) | -20 to 60℃ | -40 to 85℃ | 2,000m max. |
| product | document | data type | volume of data | date of update | download |
| --- | --- | --- | --- | --- | --- |
| TV TYPE RECTIFIER | catalog | PDF | 1009.9KB | - | download |