XL TYPE MULTI-WINDOW INDICATOR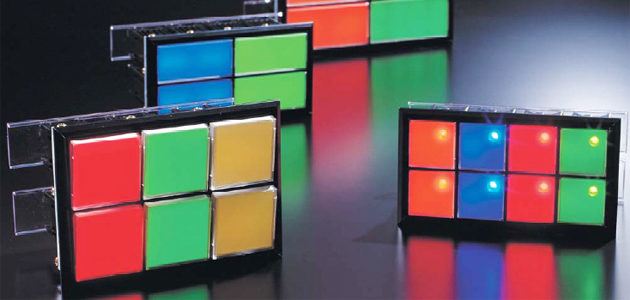 FEATURES
The 4-element LED (Aℓ InGAP-LED)
has been adopted to achieve higher brightness.
(Four times (max.) brighter than our previous models)

The short body with a reduced panel back dimension meets the requirement for smaller-size indicators.
The XL type provides an illumination voltage limiter circuit as a standard feature to prevent the LED from erroneously lighting due to induced voltage.

The energy-saving design can reduce power consumption by approx.
30% (as compared with previous models).
* Rated operating current (at 110 V AC)
XL type: approx. 11 mA
DL type: approx. 18 mA
XL3010 and XL4010 are equipped with the bullet LED for one-point illumination, allowing easy recognition even in outdoor use.
The one-point illumination lights up the LED of each color.

The front access method simplifies the procedure for changing power supply voltage. We can accept orders for a single unit and handle short delivery periods.

With the new lens structure,you can easily insert a name label. To improve ease of use, print film applicable to laser printers is also available.
(Available accessory)

To enhance safety, the XL type provides the terminal cover for the wiring screw live parts as a standard equipment. As the terminal cover is a joint type, you can mount and dismount the cover without dropping and losing it.
* With the XL2000 type, the terminal cover is to be mounted for each window.
The XL type uses chip modules, ensuring high performance, high reliability and low cost.
The XL type can use both AC and DC power supplies (AC/DC power supply type).
* The 220 V type is exclusive to AC power supply.
Rated insulation voltage (Ui)
Rated operational voltage (Ith)
Rated current (per LED unit)
Voltage fluctuation range
Operating temperature
Storing temperature
Relative humidity
Altitude
Panel thickness
Insulation resistance
Power-frequency withstand voltage
Impulse withstand voltage
Terminal strengt
Recognition distance
Degree of protection
Vibration resistance
Shock resistance
Weight (per window)
Others
XL2000
(24×24)
250V
AC・DC
24V,48V,100/110V,125V
8mA
Within ±15%
-20 to 40℃
-25 to 65℃
45% to 85%
2,000m max.
Thickness: 1 to 6mm
1,000MΩ or more (Whole live part to mounting panel)
2,000V AC/1 min. (Whole live part to mounting panel)
±7kV/3 times for each pole (1.2/50μs)(Whole live part to mounting panel)
Tensile: 50N (1min.) in 2 directions;
tightening: 0.8N·m (10 to 15 sec.)
Mounting surface luminance: 1,000 Lx; visible distance: 10m
IP40 (Panel front portion)
10 to 55Hz; double amplitude: 1.5mm, 1 hour in each of 3 axial directions
500 m/ss ; 3 times in each of 6 directions
Approx.30g
With the function of error illumination prevention
XL3000
(30×30)
250V
AC・DC24V, 48V, 100/110V, 125V, AC200/220V
11mA (22mA for 24V only)
For green and blue LED unit, 7mA
Within ±15%
-20 to 40℃
-25 to 65℃
45% to 85%
2,000m max.
Thickness: 1 to 6mm
1,000MΩ or more (Whole live part to mounting panel)
2,000V AC/1 min. (Whole live part to mounting panel)
±7kV/3 times for each pole (1.2/50μs)(Whole live part to mounting panel)
引張:50N(1min.)2方向、
締付:0.8N・m(10~15sec)
Mounting surface luminance: 1,000 Lx; visible distance: 10m
IP40 (Panel front portion)
10 to 55Hz; double amplitude: 1.5mm, 1 hour in each of 3 axial directions
500 m/ss ; 3 times in each of 6 directions
Approx.50g
With the function of error illumination prevention
XL4000(4001)
(40×40)
250V
AC・DC24V, 48V, 100/110V, 125V, AC200/220V
11mA (22mA for 24V only)
For green and blue LED unit, 7mA
Within ±15%
-20 to 40℃
-25 to 65℃
45% to 85%
2,000m max.
Thickness: 1 to 6mm
1,000MΩ or more (Whole live part to mounting panel)
2,000V AC/1 min. (Whole live part to mounting panel)
±7kV/3 times for each pole (1.2/50μs)(Whole live part to mounting panel)
Tensile: 50N (1min.) in 2 directions;
tightening: 0.8N·m (10 to 15 sec.)
Mounting surface luminance: 1,000 Lx; visible distance: 10m
IP40 (Panel front portion)
10 to 55Hz; double amplitude: 1.5mm, 1 hour in each of 3 axial directions
500 m/ss ; 3 times in each of 6 directions
Approx.60g
Oblique window,
With the function of error illumination prevention
XL3600
(30×60)
250V
AC・DC24V, 48V, 100/110V, 125V, AC200/220V
22mA (44mA for 24V only)
For green and blue LED unit, 14mA
Within ±15%
-20 to 40℃
-25 to 65℃
45% to 85%
2,000m max.
Thickness: 1 to 6mm
1,000MΩ or more (Whole live part to mounting panel)
2,000V AC/1 min. (Whole live part to mounting panel)
±7kV/3 times for each pole (1.2/50μs)(Whole live part to mounting panel)
Tensile: 50N (1min.) in 2 directions;
tightening: 0.8N·m (10 to 15 sec.)
Mounting surface luminance: 1,000 Lx; visible distance: 10m
IP40 (Panel front portion)
10 to 55Hz; double amplitude: 1.5mm, 1 hour in each of 3 axial directions
500 m/ss ; 3 times in each of 6 directions
Approx.100g
With the function of error illumination prevention
XL4800
(40×80)
250V
AC・DC24V, 48V, 100/110V, 125V, AC200/220V
22mA (44mA for 24V only)
For green and blue LED unit, 14mA
Within ±15%
-20 to 40℃
-25 to 65℃
45% to 85%
2,000m max.
Thickness: 1 to 6mm
1,000MΩ or more (Whole live part to mounting panel)
2,000V AC/1 min. (Whole live part to mounting panel)
±7kV/3 times for each pole (1.2/50μs)(Whole live part to mounting panel)
Tensile: 50N (1min.) in 2 directions;
tightening: 0.8N·m (10 to 15 sec.)
Mounting surface luminance: 1,000 Lx; visible distance: 10m
IP40 (Panel front portion)
10 to 55Hz; double amplitude: 1.5mm, 1 hour in each of 3 axial directions
500 m/ss ; 3 times in each of 6 directions
Approx.120g
With the function of error illumination prevention
XL3010
(30×30)
250V
AC・DC24V, 48V, 100/110V, 125V, AC200/220V
9mA (18mA for 24V only)
For green and blue LED unit, 7mA
Within ±15%
-20 to 50℃
-25 to 65℃
45% to 85%
2,000m max.
Thickness: 1 to 6mm
1,000MΩ or more (Whole live part to mounting panel)
2,000V AC/1 min. (Whole live part to mounting panel)
±7kV/3 times for each pole (1.2/50μs)(Whole live part to mounting panel)
Tensile: 50N (1min.) in 2 directions;
tightening: 0.8N·m (10 to 15 sec.)
Mounting surface luminance: 1,000 Lx; visible distance: 10m
IP40 (Panel front portion)
10 to 55Hz; double amplitude: 1.5mm, 1 hour in each of 3 axial directions
500 m/ss ; 3 times in each of 6 directions
Approx.50g
With one-point illumination,
With the function of error illumination prevention
XL4010
(40×40)
250V
AC・DC24V, 48V, 100/110V, 125V, AC200/220V
9mA (18mA for 24V only)
For green and blue LED unit, 7mA
Within ±15%
-20 to 50℃
-25 to 65℃
45% to 85%
2,000m max.
Thickness: 1 to 6mm
1,000MΩ or more (Whole live part to mounting panel)
2,000V AC/1 min. (Whole live part to mounting panel)
±7kV/3 times for each pole (1.2/50μs)(Whole live part to mounting panel)
Tensile: 50N (1min.) in 2 directions;
tightening: 0.8N·m (10 to 15 sec.)
Mounting surface luminance: 1,000 Lx; visible distance: 10m
IP40 (Panel front portion)
10 to 55Hz; double amplitude: 1.5mm, 1 hour in each of 3 axial directions
500 m/ss ; 3 times in each of 6 directions
Approx.60g
With one-point illumination,
With the function of error illumination prevention
| product | document | data type | volume of data | date of update | download |
| --- | --- | --- | --- | --- | --- |
| XL TYPE MULTI-WINDOW INDICATOR | Catalog | PDF | 1827.6KB | - | download |