M25N TYPE ROUND PUSH-BUTTON SWITCH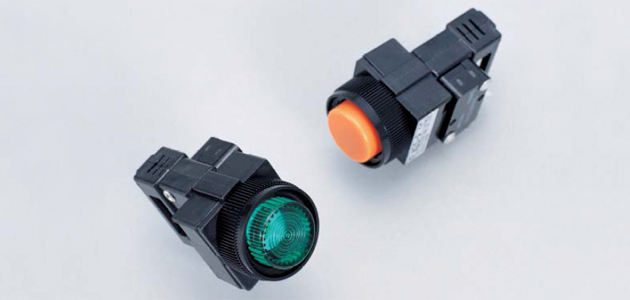 FEATURES
Applicable standards
JIS C8151 Indicators for Industrial Use, JIS C4521 Button Switches for Control Use, JIS C4520 General Rules for Control Switches, and JEM1248 Indicators
Small and light-weight
This is an illuminated type compact pushbutton switch with an LED indicator. It has become much lighter than a transformer or resistor type switch with a incandescent lamp.
The lamp can be directly illuminated with power source of 110 / 220 V
Free of mislighting
Mislighting is prevented by inductive voltage.
Easy wiring work
The Faston connection method is used to enable rapid wiring work.
Energy and maintenance work saving
LEDs are used for energy saving and maintenance saving.
Cable release
The model with a cable release (T type) is useful for resetting the thermal relay in the control center or the like.
Type
M25N TYPE
Rated insulation voltage (Ui)
250V
Rated oparating voltage (Ith)
24V, 110V AC/DC, 220V AC
Rated current-carrying capacity (Ith)
AC: 11mA, DC: 16mA
Rated withstand voltage
2,500V AC/1 min.
Lightning impulse
Between live parts (L-L)
±3kV/3 times for each pole (1.2/50μs)
Live part to assembly mounting panel (L-A)
±7kV/3 times for each pole (1.2/50μs)
Operating temperature
-20 to 40℃
Storing temperature
-30 to 85℃
Heat resistance
Allowed to stand at 75°C for 24 hours
Recognizable distance
Illuminance on mounting panel at distance of 10m: 1,000Lx
Panel thickness
1 to 3.2mm
Shock resistance
500 m/s2(6 directions)
Terminal connection
Faston terminal #187
series: 0.5 to 2.27 mm2
MICROSWITCH
Contact
250V AC 15A (resistance load)
250V AC 10A (inductive load)
Contact pushing load
3.9N
Electrical life
100,000 operations or more
Mechanical life
10,000,000 operations or more
Insulation resistance
100MΩ or more
(500V DC insulation testing set)
Withstand voltage
1,000V AC/1 min.
(Between discontinuous terminals)
2,000V AC/1 min.
(Between terminal and ground)
Wiring terminal
| product | document | data type | volume of data | date of update | download |
| --- | --- | --- | --- | --- | --- |
| M25N TYPE ROUND PUSH-BUTTON SWITCH | catalog | PDF | 2841.0KB | - | download |