ISO9001 management system and computer system, such as engineering management and EDP system, fully assist our activities.
For instance company wide Design Review system as concurrent engineering highly promote the speed up of the development and the better performance of new product.

Development

Directly Sales & Development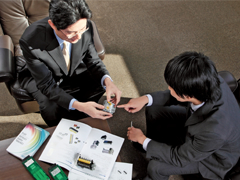 Through sales engineering service, we can directly get user's needs from the major customers in the market and feedback to the new products or technology. This scheme results us in the sure technology and the good service.
Collaboration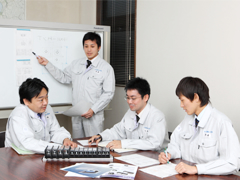 Collaborated development with major electric industries or other customers have produced high value-added products such as terminal blocks to protect lightning surge or electromagnetic noise and annunciators. Win-Win relation through collaboration with the customers or makers will be continued.
Technology
We have many projects in the company, and many young leaders are playing an active role in the projects. Young engineers are challenging the high level theme of development, cost cut, and quality improvement.
Production

Plastic Model System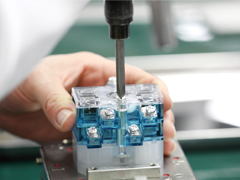 Peculiar plastic model production system for low cost & reliable production effectively works in our plant. Thorough standardization of the works and parts design, for instance one way assembly method, enables any employees to assemble products accurately.
Automatic Inspection Technology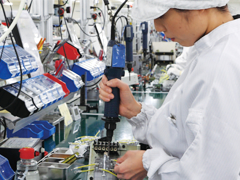 All products are inspected individually to assure the quality by the house-made automatic inspection machines. Traceability system enable to trace the record of every product & process is established.
Bar Code System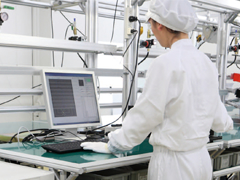 Bar code information on slip for each product & process are gathered and processed by the computer.The data are accessible on line and enable to respond to the customer's request quickly.
Collaboration With Partner Company
Subcontractor is not a subsidiary but a partner to corporate.Win-Win relation is essential to each other to service to the customer.
EDI Procurement System
EDI(Electronic Data Interchange) system is established as a purchasing system with the major supplier.
The system is effective to cut overhead, turn around time and other procurement cost.