TM TYPE, T□TYPE BLOCK TYPE TERMINAL BLOCK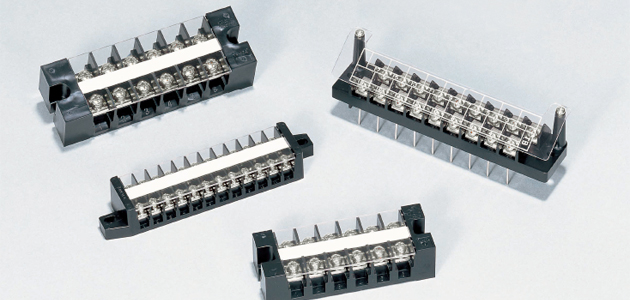 FEATURES
The block type terminal block is easy to use for operation circuits and signal circuits with a fixed number of wires.
Screw terminals and wrapping terminals are available.
The terminal block is robust and ensures safe handling.
High-performance engineering plastic is used for the insulation material, ensuring excellent electrical and mechanical durability without breakdown.
| | Rated insulation voltage (Ui) | Rated current-carrying capacity (Ith) | Max. wire size | Screw size | Withstand voltage | 電インパルス | Operating temperature | Storing temperature | Altitude |
| --- | --- | --- | --- | --- | --- | --- | --- | --- | --- |
| TM-20A | 600V | 25A | 5.5mm2 | M4×10 | 1 minute at 2,500V AC | ±7.2kV/3 times for each pole (1.2/50μs) | -25 to 50℃ | -40 to 75℃ | 2,000m max. |
| TM-40A | 600V | 40A | 8mm2 | M5×10 | 1 minute at 2,500V AC | ±7.2kV/3 times for each pole (1.2/50μs) | -25 to 50℃ | -40 to 75℃ | 2,000m max. |
| T-15 | 250V | 15A | 2mm2 | M3.5×8 | 1 minute at 2,000V AC | ±4.5kV/各極3回(1.2/50μs) | -25 to 50℃ | -40 to 75℃ | 2,000m max. |
| TL-12 | 250V | 10A | 5.5mm2 | M4×9 | 1 minute at 2,500V AC | ±6kV/3 times for each pole (1.2/50μs) | -25 to 50℃ | -40 to 75℃ | 2,000m max. |
| TY-18 | 250V | 3A | 5.5mm2 | M4×9 | 1 minute at 2,500V AC | ±6kV/3 times for each pole (1.2/50μs) | -25 to 50℃ | -40 to 75℃ | 2,000m max. |
| product | document | data type | volume of data | date of update | download |
| --- | --- | --- | --- | --- | --- |
| TM TYPE, T□TYPE BLOCK TYPE TERMINAL BLOCK | catalog | PDF | 1905.1KB | - | download |