SQUARE TYPE LED INDICATOR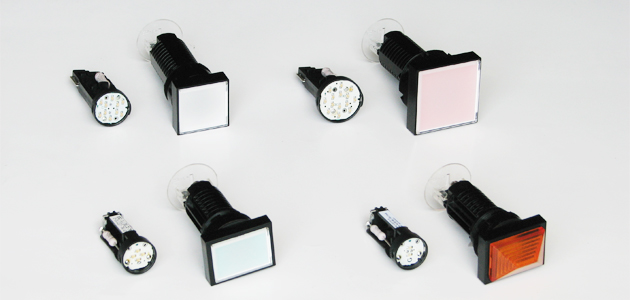 FEATURES
Available in various models for different uses; providing bright, uniform surface illumination
A variety of models are available including the square chevron type, flat square type, and surface-written type. The brightness equivalent to an incandescent lamp has been achieved through our original technological efforts.
Screw type terminals
In order to ensure the connections of electric wires of 0.2 to 2.5 mm2 used for the control circuit, the terminals of all models are screw type (M3.5).
LED unit can be replaced from panel surface.
All model LED can be replaced from their panel surface, which facilitates specification changes and maintenance.
Rated insulation voltage (Ui)
Mounting hole size
Screw size
Rated current
Lightning impulse
Recognition distance
Power-frequency withstand voltage
Operating temperature
Storing temperature
Altitude
Weight
QXL
250V
φ25.5+0.5 -0
M3.5×8
11mA
±7kV/3 times for each pole (1.2/50μs)(Whole live part to mounting panel)
10m(1,000 Lx in illuminance on applicable panel)
1 minute at 2,500V AC
-20 to 40℃
-25 to 65℃
2,000m max.
25g
KXL
250V
φ25.5+0.5 -0
M3.5×8
11mA
±7kV/3 times for each pole (1.2/50μs)(Whole live part to mounting panel)
10m(1,000 Lx in illuminance on applicable panel)
1 minute at 2,500V AC
-20 to 40℃
-25 to 65℃
2,000m max.
25g
CXL30
250V
φ25.5+0.5 -0
M3.5×8
11mA,
22mA(24V only)
±7kV/3 times for each pole (1.2/50μs)(Whole live part to mounting panel)
10m(1,000 Lx in illuminance on applicable panel)
1 minute at 2,500V AC
-20 to 40℃
-25 to 65℃
2,000m max.
30g
CXL40
250V
φ30.5+0.5 -0
M3.5×8
11mA,
22mA(24V only)
±7kV/3 times for each pole (1.2/50μs)(Whole live part to mounting panel)
10m(1,000 Lx in illuminance on applicable panel)
1 minute at 2,500V AC
-20 to 40℃
-25 to 65℃
2,000m max.
40g
| product | document | data type | volume of data | date of update | download |
| --- | --- | --- | --- | --- | --- |
| SQUARE TYPE LED INDICATOR | Catalog | PDF | 748.7KB | - | download |