SPSR TYPE, SPSL TYPE SEMAPHORE INDICATOR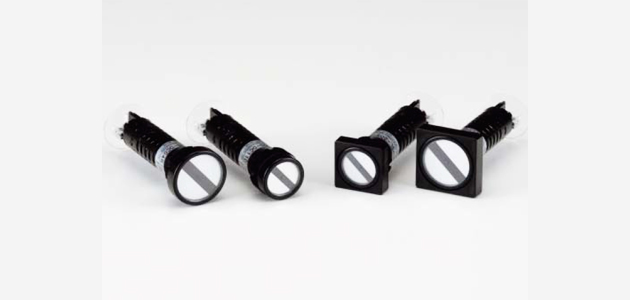 FEATURES
The SPS type indicators have acquired TÜV and CCC certification, and conform to the EN (IEC) standard.
Thus, these products have been certified as global standard products conformable with international standards.
(TÜV and CE marks are attached to the product body.)
With the compact design, the SPS type indicator meets the requirements for size and weight reduction.

With the energy-saving design, power consumption can be reduced to approx. one fourth that of conventional models.
∗ Rated operating current at 24 V DC:
(Conventional)


| | |
| --- | --- |
| SPR/L: | approx. 37 mA |
| SPSR/L: | approx. 9 mA |

Twisted wires up to AWG14 size (equivalent to 2.5 mm2) can be connected.
To enhance safety, the terminal cover for wiring screw live parts is provided as a standard feature.
The round and square types can be selected as the face shape of the indicator. Indication can be differentiated by the face shape,which enhances the panel design easily.

Since the circuit status is indicated by the flag shape, erroneous recognition is prevented. The circuit ON/OFF status can be recognized at a glance.

Rated insulation voltage (Ui)
Rated operational voltage (Ith)
Voltage fluctuation range
Rated current
Insulation resistance
Withstand voltage
Lightning impulse
Shock resistance
Service life
Degree of protection
Operating temperature
Storing temperature
Relative humidity
Altitude
Applicable wire size
Screw size
Panel thickness
Weight
SPSR/SPSL
250V
24V,30V,48V,100/110V,125V,200/220V DC
±15%(24V,48V,200/220V)
-20 to 30%(100/110V,125V)
11mA
1,000MΩ or more (between live parts and mounting panel)
1 minute at 2,000V AC
±4.5kV/3 times for each pole (1.2/50μs)
490m/s2, in 6-axis directions, 3 times each
100,000 times or more
IP52
-20 to 60℃
-30 to 75℃
45 to 85%
2,000m max.
AWG 20 to 14
M3.5 x 8, with square washer
1 to 6mm
Approx.30g
OVERSEAS STANDARD CONFORMABLE RATINGS (EN60947/IEC60947)
Remarks: The SPS type indicators have acquired TÜV certification for the above items. For detailed information, contact Fuji Electric Industry.
Basic ratings and applications
Normal operating conditions
Structure and performance
Rated operational voltage
Rated operational current
Rated insulation voltage (Ui)
IP code
Ambient temperature
Altitude
Atmospheric condition
Conditions during transport and strage
Mounting of single hole mounted devices
Range of panel thickness
Minimum distances between centres of mounting holes
Connecting capacity
Withstand voltage
Durability
SPSR/L-2□
SPSR/L-3□
SPSR/SPSL
24V, 48V, 100/110V, 125V, 200/220V DC
11mA max.
250V
IP 52
-5℃ to 40℃
2,000m max.
Humidity: 90% max. (at 20℃),
50% (at 40℃)
Microscopic environment: Pollution degree: 3
‒25℃ to 55℃
+70℃ for short periods (within 24 hours)
φ20.5mm
1 to 6mm
30mm
40mm
Twisted wire: AWG20 (2 pieces max.)
Round crimp terminal: AWG14 to 20 (2 pieces max.)
Power-frequency withstand voltage: 2,000V AC / 1min.
Mechanical durability: 100,000 operations
IEC standard No.
IEC60947-5-1; 5.1-d
IEC60947-5-1; 5.1-e
IEC60947-5-1; 5.1-f
IEC60947-5-1; 5.1-I
IEC60947-1; 6.1.1
IEC60947-1; 6.1.2
IEC60947-1; 6.1.3
IEC60947-1; 6.2
IEC60947-5-1; 6.3.1
IEC60947-5-1; 6.3.1.2
IEC60947-5-1; 6.3.1.3
IEC60947-1; 7.1.7
IEC60947-1; AnnexD
IEC60947-5-1; 7.2.3
IEC60947-5-1; AnnexC
| product | document | data type | volume of data | date of update | download |
| --- | --- | --- | --- | --- | --- |
| SPS TYPE SEMAPHORE INDICATOR | Catalog | PDF | 664.6KB | - | download |