ZK TYPE DROP TYPE FAULT INDICATOR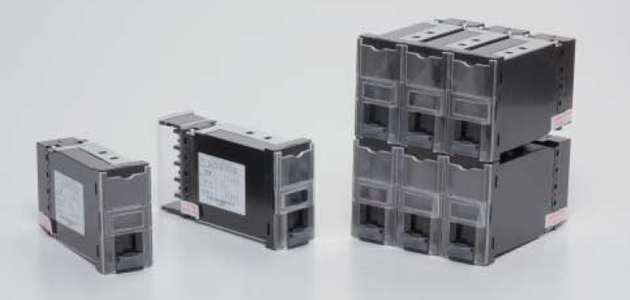 FEATURES
The panel back size is shorter than TK type by about 25%.

Faston / Tab type and Screw type are available as standard line up.
Screw type is equiped with a terminal cover.
Vertical and horizontal jumper for link reduce wires.
Short time input operation is available for current type.
(operating at 200% or more of rated current, at input pulse of 10 msec).
It sensitively responds to an pulse input signal to the annunciator relay.
For further details, refer to technical information (page E62).
4 cotacts can be choosed from 2 contacts linked with the display flag and 3 contacts linked with the coil voltage.
Wide contact variations enable to omit some auxiliary relays now in use.
The approximately 40% expansion of the name character area enhances visibility of a nameplate.

A plug-in method for internal elements is adopted, which enables easy changing of specifications and maintenance from the front of the panel.

Measures for whisker trouble are fully prepared by eliminating the use of tin and zinc plating.
Collective mounting is available, which saves hole cutting work one by one.
It contributes to reduce man-hour.
(A vertical one-line assembly is not available).
Rated insulation voltage (Ui)
Coil rating
Continuous input range
Operating value
Returning value
Minimum input pulse width
(rated voltage or current)
External Terminal
Max. wire size
Insulation resistance
Power-frequency withstand voltage
Lightning impulse sithstand voltage
Overload capability
Contact current-carrying capacity
Contact breaking capacity
Vibration resistance
Shock resistance
Durability
Protection degree
Ambient operating temperature
Storing temperature
Relative humidity
Altitude
Weight
Voltage
Current
Voltage operation type
250V
24V,48V,100/110V,125V,200/220V AC/DC,240V AC
-
24V, 48V AC/DC: 80 to 130%
Others: 70 to 130%
Rating×70% max.
RatingX10% or more
30 msec max.
Faston #250 or screw terminal (M3.5)
2mm2 max. (AWG14)
10MΩ or more (Between electric circuit block and ground)/5MΩ or more (electric circuit between each other/Between contact terminals [Between poles])
2,000V AC (Between electric circuit block and ground/electric circuit between each other)/1,000V AC (Between contact terminals [Between poles])/1 min.
±4.5kV (Between electric circuit block and ground/electric circuit between each other)/±3kV (Between contact terminals [Between potes])/3 times for each poles (1.2/50μs)
RatingX1.3 times/3 hours/1 time
2A
110V DC, 0.2A
(L/R = 7msec)
Frequency: 16.7Hz,
Width of frequency: 4mm,
10 min for each axis
294m/s2, 3 times each axial direction
10,000 times or more (electrical, mechanical)
Panel surface: IP40
0 to 40°C (‒10 to 55°C: a few hours are allowed per day)
-20 to 60℃
30 to 80% (average per day, no dew condensation)
2,000m max.
300g
Current operation type
250V
-
0.5A,0.7A,1.0A,2.0A DC
90 to 100%
(in case of continuous input)
RatingX90% max.
RatingX10% or more
30 msec max. (200% input of rated current, 10 msec max.)
Faston #250 or screw terminal (M3.5)
2mm2 max. (AWG14)
10MΩ or more (Between electric circuit block and ground)/5MΩ or more (electric circuit between each other/Between contact terminals [Between poles])
2,000V AC (Between electric circuit block and ground/electric circuit between each other)/1,000V AC (Between contact terminals [Between poles])/1 min.
±4.5kV (Between electric circuit block and ground/electric circuit between each other)/±3kV (Between contact terminals [Between potes])/3 times for each poles (1.2/50μs)
RatingX6.0 times/30 sec./1 time
2A
110V DC, 0.2A
(L/R = 7msec)
Frequency: 16.7Hz,
Width of frequency: 4mm,
10 min for each axis
294m/s2, 3 times each axial direction
10,000 times or more (electrical, mechanical)
Panel surface: IP40
0 to 40°C (‒10 to 55°C: a few hours are allowed per day)
-20 to 60℃
30 to 80% (average per day, no dew condensation)
2,000m max.
300g
| product | document | data type | volume of data | date of update | download |
| --- | --- | --- | --- | --- | --- |
| ZK Type Flag Drop Type Fault Indicator | Catalog | PDF | 808.4KB | - | download |