BHL TYPE DISCREPANCY SWITCH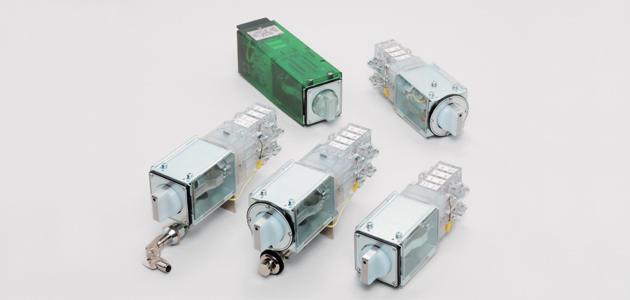 FEATURES
With the rolling action of the contact mechanism that minimizes the area exposed to arc, improved contact stability can be maintained for a long period.

The optimum design of cam shape and moving contact angle can improve the breaking capacity, enabling voltage and current value settings with a certain margin.
Round and square types of nameplates can be selected.
Indication can be differentiated by the shape of nameplate, resulting in a panel design improvement.

Variations in lamp circuit voltage (24 V, 48 V, 110 V, 125 V and 220 V)
A LED lamp type with built-in flicker circuit is available. With this type, the knob can be flickered.
* For the indication method, refer to "LXF" in the table (7) on F59.
The key lock mechanism can prevents erroneous operation.
A cylinder type (BHLC type) key and padlock type (BHLP type) key are available.
The back terminal type (BHL-B type) enables quick wiring.
A BHLFX type that conforms to the IP40 enclosure rating is available.
Since the knob is fastened with a screw, the BHLF type can prevent entry of external foreign objects and accidental contact with live parts.
A protective ground terminal is also provided.
Rated insulation voltage (Ui)
Rated current-carrying capacity (Ith)
Max. wire size
Screw size
Withstand voltage
Impulse withstand voltage
Contact resistance
Mechanical life
Electrical life
Shock resistance
Vibration resistance
Min. power requirements
Operating temperature
Storing temperature
Altitude
BHL・BHLS TYPE
690V
20A
5.5mm2
M4×9
2,500V AC/1 min.
4kV
50mΩ max.
500,000 operations or more
100,000 operations or more
500m/s2 or more
(in 6 directions)
(Contact part: 300m/s2)
Vibration range : 10 to 150Hz,
Acceleration : 20m/s2,
Time : 1 hour (3 directions)
5V AC 500mA, 5V DC 100mA (in suitable operating conditions)
-20 to 60℃
-40 to 70℃
2,000m max.
| product | document | data type | volume of data | date of update | download |
| --- | --- | --- | --- | --- | --- |
| BHL TYPE DISCREPANCY SWITCH | Catalog | PDF | 1685.4KB | - | download |