GMZ TYPE AUXILIARY SWITCH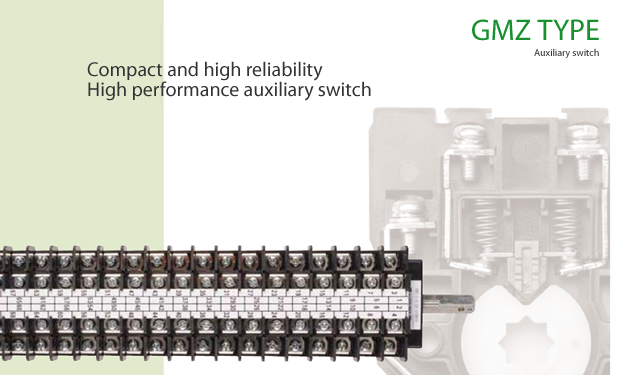 FEATURES
High dust-tight structure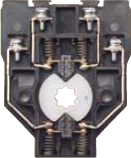 High dust-tight structure by rib inside the unit prevents foreign substance invasion.
Wide contact variations
3 kinds of contacts, single silverplating contacts, double bridge silver or gold-plating contacts are available, which meets various requirements.


Low energy contact application
Double bridge gold-plating contacts cover low energy application of DC5V, 1mA or more.
Double bridge silver-plating contacts cover DC5V 5mA. (50,000 cycle switching)
High anti-flammability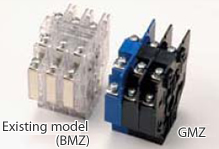 High anti-flammable PBT (Poly-Butylene Terephthalate) plastic is adopted. (class UL94,V-0)
Safety Structure on live portion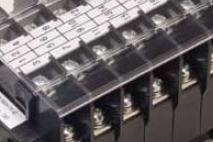 A terminal cover(Polycarbonate) is equipped as standard equipment for safety improvement.
Combination of different contact units in one switch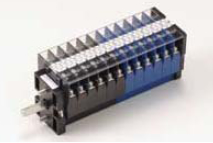 Three different contact units can be assembled in one switch assembly.
* One switch unit can be provided with only one kind contact.
Chattering prevention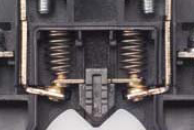 High-pressure springs on contact portion enhance vibration resistance performance.
Max. 20 unit assembly is available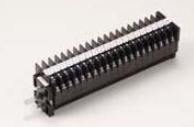 Low twist structure of the switch enables to assemble long switches as many as 20 units (40 contacts). Wide range application such as parallel connection is available.
Max. applicable wire size is 5.5mm2
Applicable wire size is 2 to 5.5 mm2 in spite of its small body.
Rated insulation voltage is 600V
The rated insulation voltage is higher than the previous model. (250V → 600V)
Standard: IEC60947-1,IEC60947-5-1
Item
GMZ
Rating
Rated insulation voltage (Ui)
600V
Rated impulse withstand voltage
±6kV (1.2×50μs)
Rated current-carrying capacity (Ith)
20A (silver contacts), 2A (gold contacts)
Max. wire size
5.5mm2
Screw size
M4×9
Performance
Power-frequency withstand voltage
2,500V AC / 1min.
Contact resistance
50mΩ max. (default)
Mechanical life
500,000 times (angular speed: 5

π

rad/s)
Electrical life
Single silver contacts
50,000 (110V DC 5A, L/R = 40ms)
Double bridge silver contacts
100,000 (110V DC 5A, L/R = 40ms)
Shock resistance
500m/s2 or more (6 directions)
Vibration resistance
Frequency: 16.7Hz Amplitude: 3mm Time: 1 hour (3 axial directions)
Standard operating condition
Ambient temperature
-20 to 60℃
Relative humidity
45 to 85%
Altitude
2,000m max.
| product | document | data type | volume of data | date of update | download |
| --- | --- | --- | --- | --- | --- |
| GMZ TYPE AUXILIARY SWITCH | Catalog | PDF | 703.9KB | - | download |