M TYPE, ML TYPE DRUM SWITCH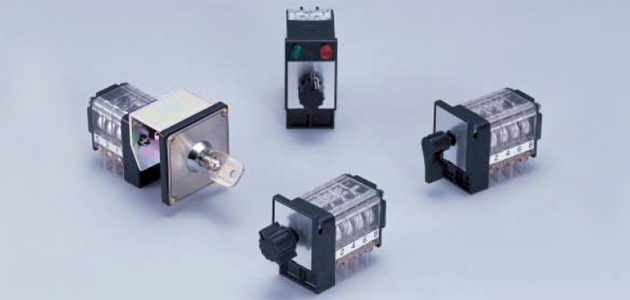 FEATURES
This micro drum switch is small and highly functional with high reliability. The control switch has critical roles among the control devices that constitute the core of the neural system of a plant. The micro drum switch ensures stable reliability in emergency as well as in normal use. In addition, it effectively utilizes the panel surface as the interface for the control devices, and plays great roles for improving the panel design.
Sliding contact method
The sliding contact method has been adopted to ensure high contact reliability. In this method, the contacting surfaces of the contactors rub each other so that dust and other foreign matter can be cleaned completely.
High mounting density
LED indicators are mounted in the nameplate part. This design further improves the mounting density on the panel (ML type).
Compatibility with various power sources
The power source for indicators is selectable from 110 and 220V AC, 24, 48, 110, and 125V DC. This variety of options allows for complying with different needs.
| Item | M TYPE,ML TYPE |
| --- | --- |
| Rated insulation voltage (Ui) | 250V |
| Rated current-carrying capacity (Ith) | 8A |
| Max. wire size | 5.5mm2 |
| Screw size | M4×8 |
| Withstand voltage | 2,500V AC/1 min. |
| Lightning impulse | ±7kV (1.2/50μs) |
| Contact resistance | 50mΩ max. |
| Mechanical life | 50,000 operations or more, Class 5 |
| Electrical life | 10,000 operations or more, Class 5 |
| Shock resistance | 294m/s2 |
| Vibration resistance | Acceleration: 50Hz, 20m/s2, Time: 2 hours (3 directions) |
| Operating temperature | -20 to 50℃ |
| Storing temperature | -40 to 70℃ |
| Altitude | 2,000m max. |
| product | document | data type | volume of data | date of update | download |
| --- | --- | --- | --- | --- | --- |
| M TYPE, ML TYPE DRUM SWITCH | Catalog | PDF | 5148.0KB | - | download |