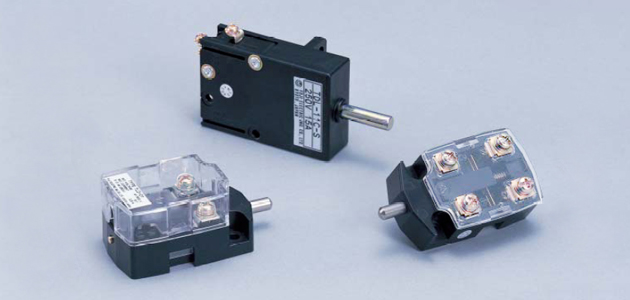 FEATURES
The TLC-W and TLD are applicable as a limit switch (TLC type) for a minute electric current circuit, the door switch (TLD type) for a fluorescent lamp circuit, and other diverse uses in order to ensure high reliability.
High reliability
Twin contacts are used to ensure the opening / closing action. Dust-proof design of those contacts offers high reliability.
Simple structure and design
A transparent cover is used to facilitate checking the inside.
Rated insulation voltage (Ui)
Rated current-carrying capacity (Ith)
Operating load
Contact pressure
Full stroke
Contact resistance
Mechanical life
Electrical life
Withstand voltage
Contact
Between terminals
Between terminal and
non-live metallic part
Between terminal and ground
Door switch
TLD TYPE
600V
5A
Contact 01,10
7.0±1N(stroke: 6.5mm)
b contact: 2.0N,
a contact: 3.5N
7mm
10mΩ max.(initial)
250,000 operations or more
100,000 operations or more
2,500V AC/1 min.
2,500V AC/1 min.
2,500V AC/1 min.
110V AC,
2A・110V DC, 1A}
(inductive load)
Contact 11
7.0±1N(stroke: 6.5mm)
Limit switch
TLC-W TYPE
600V
10A
Contact 01,10
7.0±1N(stroke: 6.5mm)
b contact: 2.0N,
a contact: 3.5N
7mm
10mΩ max.(initial)
10,000,000 operations or more
1,000,000 operations
2,500V AC/1 min.
2,500V AC/1 min.
2,500V AC/1 min.
24V DC, 6A
(resistance load)
Contact 11
7.0±1N(stroke: 6.5mm)
TDL TYPE
250V
16A
Contact 11C,12C
5.0±1N(stroke: 20mm)
0.5N
0mm
50mΩ max.(initial)
500,000 operations or more
100,000 operations or more
1,000V AC/1 min
1,500V AC/1 min
2,500V AC/1 min.
250V AC,
15A・125V DC, 0.6A}
(resistance load)
Contact 11C
5.0±1N(stroke: 20mm)
| product | document | data type | volume of data | date of update | download |
| --- | --- | --- | --- | --- | --- |
| T TYPE DOOR SWITCH | Catalog | PDF | 1654.3KB | - | download |