XK TYPE ANNUNCIATOR RELAY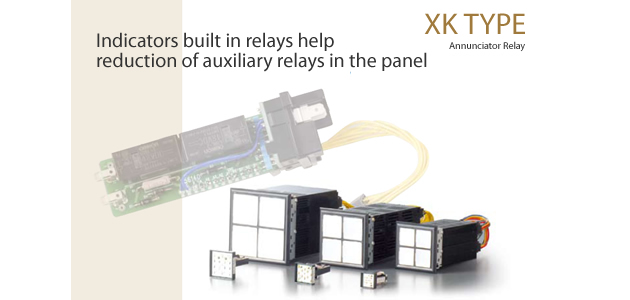 FEATURES
High brightness by 4 elements LED (Al InGap-LED)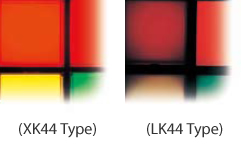 4 elements LED (Al InGap-LED) improves brightness.
(new one is 4 times as bright as the previous model)
24mm, 30mm, 40mm square windows are available

Three different size windows are available for various application needs, and XK units and XL units can be mixed in one assmbly.
Easy wiring by built in relays

High performance and reliability of built in relays reduce wiring work.
Easy setting of alarm output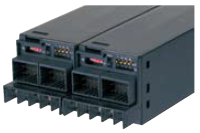 Each alarm output (bell, buzzer, chime) can be easily selected by the switch on the rear side.
Various sequence type are available
Almost all standard pattern sequence circuits are lined up, which helps speed up of circuit design.
A new structural lens

* Label film is gold optionally.
A label film indicated words can be installed with a single motion.
Insertable size of label film (mm)
· XK44TYPE ...(H)35.0×(W)33.5
· XK33TYPE ...(H)25.0×(W)23.5
· XK22TYPE ...(H)19.0×(W)17.5
Rating
Performance
Standard opration condition
Rated insulation voltage (Ui)
Rated operational voltage
Input signal time
Insulation resistance
Power-frequency withstand voltage
Impulse withstand voltage (Uimp)
Visibility of light flashing
Degree of protection
Terminal size
Vibration resistance
Shock resistance
Power consumption (1 unit)
Operating temperature
Storing temperature
Relative humidity
Altitude
XK22
250V
24V DC
20ms or more
(at rated voltage)
10MΩ or more (between electrical circuit and ground)
2,000V AC/1min.
(between electrical circuit and ground)
±4.5kV (1.2/50μs) 3 times for each pole (between electrical circuit and ground)
Mounted side brightness: 1,000Lx,
Visible distance: 10m
IP40 (at illuminating portion)
M3 screw or Faston tab # 187
Frequency: 10Hz
Amplitude: 5mm (vertical direction: 2.5mm)
Time: 30sec. (3 axial direction)
Frequency: 16.7Hz
Amplitude: 0.4mm
Time: 600sec. (3 axial direction)
294m/s2
(6 directions, 3 times/each)
Approx. 1W
0 to 40℃
(-10 to 50 ̊C allowed for a few hours in a day)
-20 to 60℃
30 to 80%
2,000m max.
no freeze/
no condensation
XK33
250V
100/110V DC
20ms or more
(at rated voltage)
10MΩ or more (between electrical circuit and ground)
2,000V AC/1min.
(between electrical circuit and ground)
±4.5kV (1.2/50μs) 3 times for each pole (between electrical circuit and ground)
Mounted side brightness: 1,000Lx,
Visible distance: 10m
IP40 (at illuminating portion)
M3 screw or Faston tab # 187
Frequency: 10Hz
Amplitude: 5mm (vertical direction: 2.5mm)
Time: 30sec. (3 axial direction)
Frequency: 16.7Hz
Amplitude: 0.4mm
Time: 600sec. (3 axial direction)
294m/s2
(6 directions, 3 times/each)
Approx. 1W/
(110V DC)
0 to 40℃
(-10 to 50 ̊C allowed for a few hours in a day)
-20 to 60℃
30 to 80%
2,000m max.
no freeze/
no condensation
XK44
250V
110V DC
20ms or more
(at rated voltage)
10MΩ or more (between electrical circuit and ground)
2,000V AC/1min.
(between electrical circuit and ground)
±4.5kV (1.2/50μs) 3 times for each pole (between electrical circuit and ground)
Mounted side brightness: 1,000Lx,
Visible distance: 10m
IP40 (at illuminating portion)
M3 screw or Faston tab # 187
Frequency: 10Hz
Amplitude: 5mm (vertical direction: 2.5mm)
Time: 30sec. (3 axial direction)
Frequency: 16.7Hz
Amplitude: 0.4mm
Time: 600sec. (3 axial direction)
294m/s2
(6 directions, 3 times/each)
Approx. 2W(110V DC, 1 relay)
Approx. 3W(110V DC, 2 relays)
0 to 40℃
(-10 to 50 ̊C allowed for a few hours in a day)
-20 to 60℃
30 to 80%
2,000m max.
no freeze/
no condensation
| product | document | data type | volume of data | date of update | download |
| --- | --- | --- | --- | --- | --- |
| XK TYPE ANNUNCIATOR RELAY | catalog | PDF | 1045.5KB | - | download |