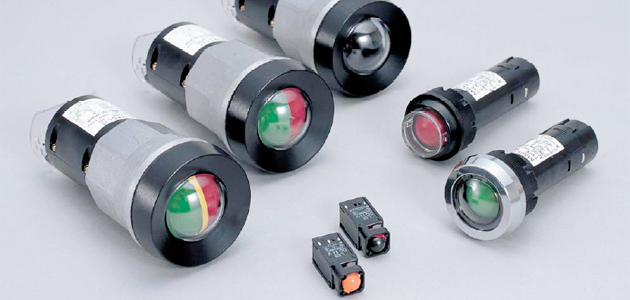 FEATURES
The Maclit indicator is operated by the electromagnetic polarity inversion method. The status is displayed by rotating the display part. The SS and MS types have built-in LED for night time use.
SS and MS can display 3 states; "Load ON", "Load OFF", "Loss of power to the indicator".
Materials with high weather resistance are available for outdoor equipment (SQ and MS types).
The Maclit Indicator can operate at low power consumption. It offers various advantages including energy saving, space saving, and maintenance free.
The MS type is provided with the residual display function. When the display power source is lost, the color displayed immediately before that loss and the other colors appear at their respective ratios of 2/3 and 1/3 on the display part. This function allows you to identify the status at a glance in which the power source has been lost (except for the MSD indicator).
Rated insulation voltage (Ui)
Rated current-carrying capacity (Ith)
Withstand voltage
Lightning impulse
Insulation resistance
Shock resistance
Service life
Location of use
Operating temperature
Degree of protection
Weight
LS
250V
20mA to 40mA AC / DC
1 minute at 2,000V AC
±6kV/3 times for each pole (1.2/50μs)
100MΩ or more
30G or more
100,000 times or more
Indoor / outdoor
-20 to 75℃
Closed type
Approx.20g
SS
250V
20mA or less
1 minute at 2,500V AC
±7kV/3 times for each pole (1.2/50μs)
100MΩ or more
50G or more
300,000 times or more
Indoor
-20 to 50℃
IP40
Approx.150g
SQ
250V
20mA or less
1 minute at 2,500V AC
±7kV/3 times for each pole (1.2/50μs)
100MΩ or more
50G or more
300,000 times or more
Indoor / outdoor
-20 to 50℃
Water-proof /
dust-proof (IP65)
Approx.150g
MS
250V
25mA
1 minute at 2,500V AC
±7kV/3 times for each pole (1.2/50μs)
100MΩ or more
50G or more
100,000 times or more
Indoor / outdoor
-20 to 60℃
Water-proof /
dust-proof (IP65)
Approx.250g
| product | document | data type | volume of data | date of update | download |
| --- | --- | --- | --- | --- | --- |
| MACLIT INDICATOR | Catalog | PDF | 644.4KB | - | download |