MPC TYPE RECTANGULAR CONNECTOR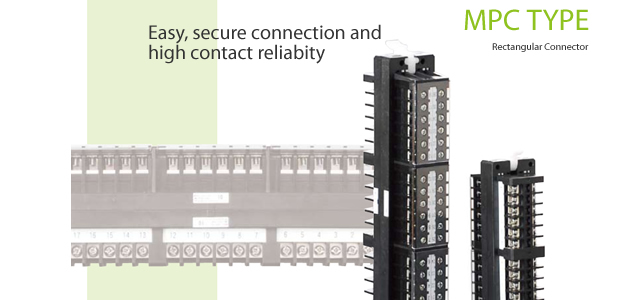 FEATURES
Coded plug connector enables separated use
36 pattern pin code structure at each end of connector prevents wrong plugging of connectors, which enables separated use as applications (circuits).
Secure lock and easy removal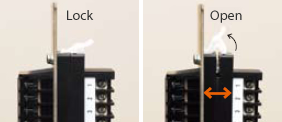 Secure lock is available with levers, and plug can be removed easily by release structure on the levers in spite of their lots-units (24 or 36).
High contact reliability by the 4-point contact (silver plating)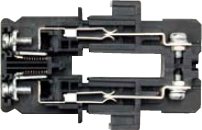 Multipoint contacts, high conductive silver plating enable secure contact reliability.
Lots-units, high current-carrying capacity
High contact pressure can carry 10A(continuous), 200A (2 sec), and 300A (3 sec) at all poles in spite of 24 or 36 lots-units.
High anti-flammability grade plastic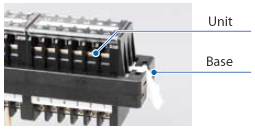 PBT plastic (class UL94 V-0) of base portion and modified PPE plastic (class UL94 V-1) of unit portion are adopted for anti-flammability.
Up-screw structure of socket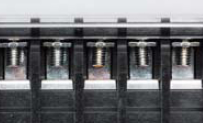 Up-screw structure of socket improves speed of wiring and prevents screws dropping.
Safety structures

Protective structures on contact points (plug cover and terminal cover) are adopted for improving safety.
Wide compatibility by their screw terminal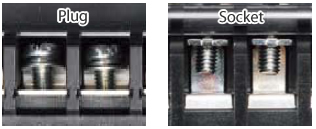 General-purpose screw enables easy change or adding wires by only general-purpose crimp terminal without special tools.
Various accessories
Various accessories such as mark label and terminal cover are available.
(All accessories except plug cover are equipped as standard)


Standard: JIS C 5402, IEC 60947-7-1, JIS C 2811
Item
MPC-24 MPC-36
Rating
Rated insulation voltage (Ui)
250V
Rated impulse withstand voltage
±4kV/5 times for each pole (1.2/50μs)
Rated current-carrying capacity (Ith)
10A
Max. wire size
2.5mm2
Performance
Insulation resistance
1,000MΩ or more
Power-frequency withstand voltage
2,500V AC/1 min.
Short-time current
200A/2sec. 300A/1sec.
Vibration resistance
Frequency range: 10 to 55Hz,
Amplitude: 1.5mm,
Time: 2hours (3 axial directions)
Shock resistance
500m/s2 or more (6 directions)
Insertion / Extraction load
300N max.
Standard operating condition
Ambient temperature
-20 to 50℃
Storing temperature
-40 to 85℃
Relative humidity
45 to 85%
Altitude
2,000m max.
Panel thickness
1.6 to 3.2mm
| product | document | data type | volume of data | date of update | download |
| --- | --- | --- | --- | --- | --- |
| MPC TYPE RECTANGULAR CONNECTOR | catalog | PDF | 712.1KB | - | download |