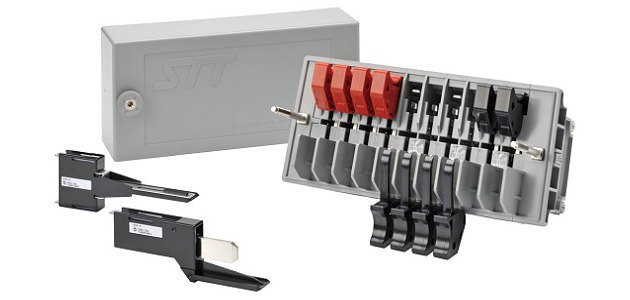 FEATURES
Conformity with major standards
STT type conforms to IEC60497-3 and applies to UL414.
Open-Circuit prevention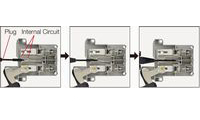 Internal circuit of A and AS units (for Current Circuit) is double, which certainly prevents Open-Circuit during inserting a plug.
Efficient wiring work by Up-Screw Terminal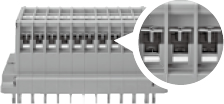 Up-Screw terminal makes wiring work more efficiently.
Wire dropping-off prevention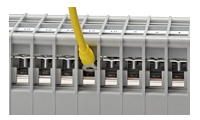 The rib on the terminal portion leads a ring tongue to proper position. This structure prevents improperconnection of the screw and ring tongue.
Easy voltage test by general clips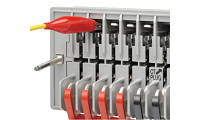 Voltage circuit testing can be easily conducted by general clips like an alligator clip as well as dedicated plugs.
High contact reliability by 4-point contact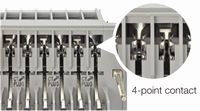 The multi point contact structure of clips enhances contact reliability.
Standard: IEC60497-3, UL414
STT type
Rating
Rated insulation voltage (Ui)
690V
250V (AS unit, close condition)
Rated Impulse Withstand Voltage (Uimp)
±6kV
±2.5kV (AS unit, close condition)
Conventional Free Air Thermal Current (Ith)
30A
Rated Making and Breaking Capacity
250V AC (COSφ=0.95) 0.15A AC
250V DC (L/R=1ms) 0.15A DC
Rated Short-Time Withstand Current (Icw)
360A AC (COSφ=1) - 1sec
Rated Short-Circuit Making Capacity (Icm)
250V AC 50A - 50msec (COSφ=1)
Rated Operational Voltage (Ue)
250V
Rated Operational Current (Ie)
0.1A
Utilization Category
AC-21B, DC-21B
Rated Connecting Capacity
0.75-5.5mm2 (AWG18-10)
Screw size
M4X9
Clamping Torque
1.2N・m (Terminal),
0.8N・m (Plug)
Standard operating condition
Ambient Air Temperature
Performance Guarantee
-5 to 40℃
Usable
-25 to 70℃
Storing temperature
-40 to 85℃(Not freeze)
Humidity
45 to 85%
Altitude
2,000m max.
Pollution degree
Degree 3
| product | document | data type | volume of data | date of update | download |
| --- | --- | --- | --- | --- | --- |
| STT TYPE TEST SWITCH | catalog | PDF | 3568.5KB | - | download |