FUJI ELECTRIC INDUSTRY is a specialized manufacturer of electrical control devices.
Our four main products categories: control switches, pilot lamps and indicators, connecting devices, and electronic devices, are all developed and manufactured through the optimal use of the technical capabilities we have refined through our experience in the field of heavy electric machinery. Our products are widely adopted in various fields that support the infrastructure of today's modern society, like electricity and railroads.
Our four main products categories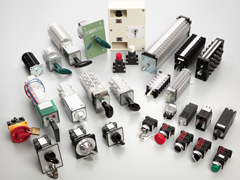 Control Swithes
At FUJI ELECTRIC INDUSTORY, we have taken full advantage of the contact and shielding technology that we have cultivated over the years in developing switches that can satisfy even the strictest of requirements, and a great many of those products are now in use.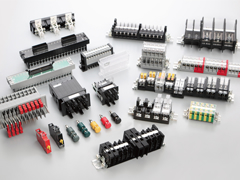 Connecting Devices
FUJI ELECTRIC INDUSTORY has a lineup of connection devices for a wide range of current capacities. We also offer products with various additional functions in addition to their excellent performance as standard connection terminals.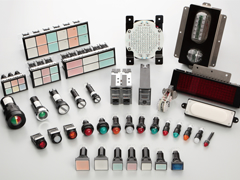 Pilot Lamps and Indicators
From early on, we developed pilot lamps employing LED that are adopted in the railway and transportation fields and have an excellent reputation for their high functionality.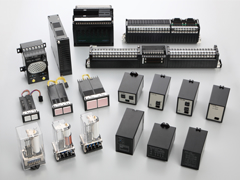 Electronic Devices
Our electronic devices are based on technology that integrates new electronic components in conventional products, and they are currently used in a wide range of applications in the areas of heavy electric machinery and railroad transformers.