Message from the President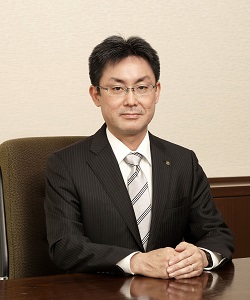 Paving the Future Through Bold Challenge
Since our founding in 1953 as an electrical control device manufacturer, FUJI ELECTRIC INDUSTRY has played a major role in the development of the social infrastructure, including power and transportation.
In recent years, we have focused on product development for railway rolling stock and for power generation using solar and other natural energy, as we supply high value-added products that are based on the reliable technology and quality that we have cultivated in those corresponding markets.
Currently, we are expanding our business activities on a three-pillared strategy of cultivating [1] the heavy electrical equipment market, [2] the general industrial market, and [3] overseas markets. However, in terms of products and markets, economic globalization is progressing and the surrounding business environment is one in which competition among companies has intensified even further each and every year.
Under such circumstances, we initiated a project in 2010 in order to aim at sustainable growth, and under which we formulated a long-term management plan called "Vision 100". In order to expand our possibilities for the future, this plan takes a new perspective in aiming at the development of both next-generation products and new markets, and it has been implemented on a company-wide basis since 2013.
With "High quality is the best selling point of all." as our permanent slogan, we will continue to fulfill our supply responsibility as a manufacturer and to implement bold challenges toward the stable and expanding growth of our business foundation.
President Yagi Satoshi