Quality and Environmental Policy

ISO9001 and ISO14001 certification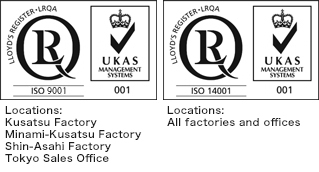 Our Kusatsu, Minami-Kusatsu and Shin-Asahi factories and Tokyo Sales Office have all acquired ISO9001:2008 certification. All of our factories and offices as well have received ISO 14001:2004 certification, and further energy-saving and resource-saving activities are being promoted company-wide.
FUJI ELECTRIC INDUSTRY implements rigorous testing of finished products in our in-house test laboratory, including evaluation tests on product reliability, durability and safety.
We are involved in thorough education and increasing capabilities in regard to quality assurance and environmental protection for all employees, both full- and part-timers.
Quality Control Process

Meeting global quality and environmental standards
Many of our products meet IEC standards and have received certification under such international standard as CCC, UL, and TÜV SÜD. FUJI ELECTRIC INDUSTORY is also involved in the RoHS Directive and every one of our products meets their standard.
In recent years, we have been advancing the construction of a database on the chemical substances that are contained in products in compliance with European Union's REACH regulation on chemicals.